Joe Roberts - Aged 18 - Trial For Edgware and Kingsbury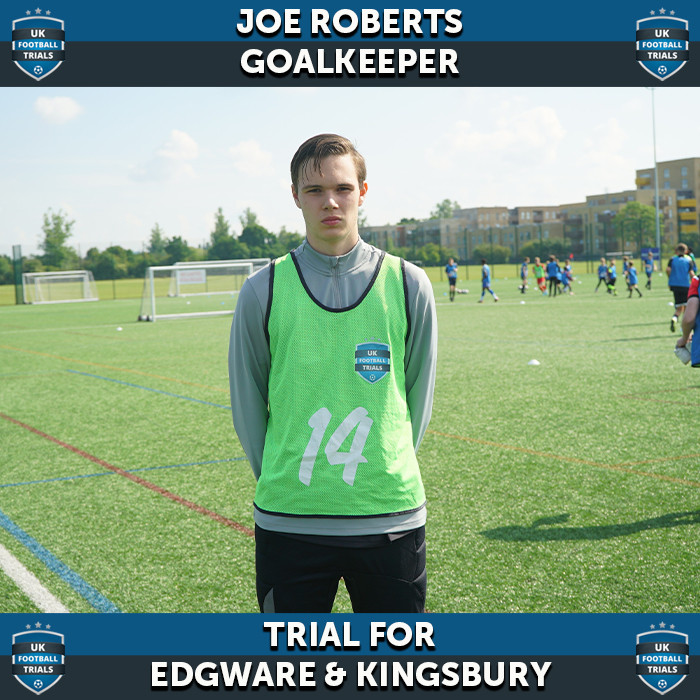 Goalkeeper Joe Roberts, 18, was scouted from our West London event by Edgware and Kingsbury.
We caught up with Joe to discuss his football history, why he attended our events and what has happened since.
Firstly, we asked Joe to tell us about his football background. He explained: "I have been playing Sunday League football for 14 years. I played for Rocks Lane between 2008 and 2019 and in the 2017/18 season I won Managers Player of the Year then between 2019 and 2021 I played for Putney Bridge United who were also another Sunday league team. For the season just gone the 2021/22 season I played for Sheen Lions.
Curious as to why Joe attended our event, he told us: "The reason why I don't think I was getting a chance is because it's difficult to be spotted playing Sunday league football. I always had the ambition to play professionally or to play at the highest level I possibly could which is why I came to UK Football Trials. June 2022 wasn't the only time I came for a trial, I previously attended in April 2022 and in April 2021."
Moving onto his trial, Joe told us: "The experience I gained from the trial was good, it was a good experience that was also character building as a football player personally. The coaches were welcoming and it was a good level of football as well."
"I will be playing for in pre season training three times a week and playing against either a pro or semi pro club every other week."
We finally asked Joe if he had any advice for players in a similar position to himself. He told us: "My advice would be to work hard. Hard work and determination can take you anywhere. I also think you need to enjoy the process of becoming a better footballer because of course, we want to play professionally. However, if you enjoy the process before making it at a high level, it makes it all worth working for."
"Another piece of advice I would also give is to never forget the people that helped you along the way as well because they invested their time and energy into making you a better footballer and they are the most important people at the end of the day.
UK Football Trials would like to congratulate Joe and wish him the best of luck with his football.

What Pro Clubs & Scouts Say About UK Football Trials
What Parents & Players Say About UK Football Trials
UK Football Trials is a FEEFO GOLD Rated & Trusted Merchant 2015, 2016, 2017, 2018, 2019, 2020, 2021
UK Football Trials is the largest and most successful football trials company in the world. We became the world's first football trials company confident enough to use an independent feedback review system too! It allows the players and parents who attend to tell the world what they think!

Our Rating: 4.9 / 5 * Excellent