Isaac Allan - SIGNED PRO CLUB SCHOLARSHIP with Lincoln City FC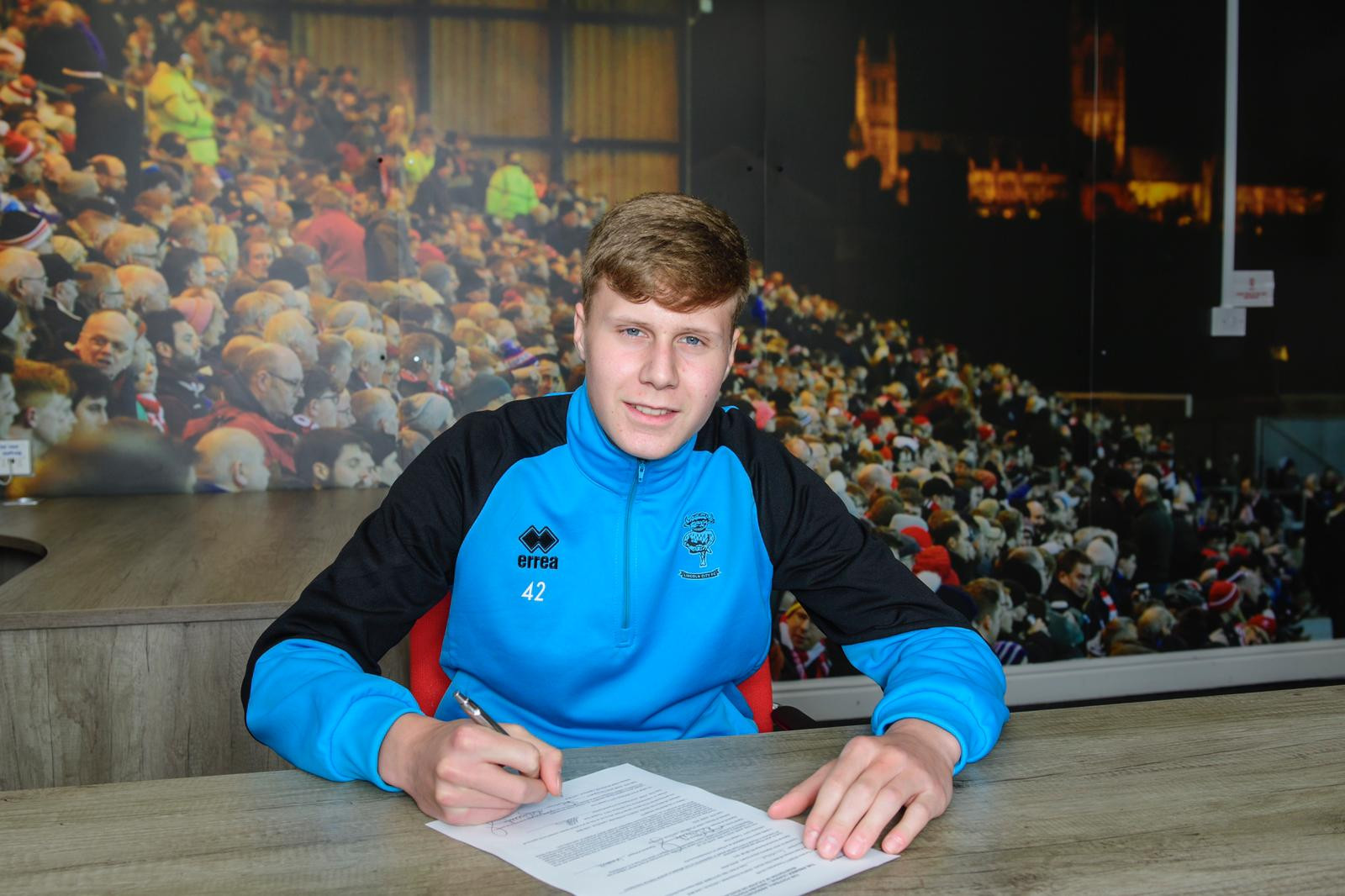 Academy coach from Lincoln City said "Isaac is doing really well as a scholar - we are delighted with his attitude and the progress being made so far at the club."
Congratulations to Isaac Allan on this excellent achievement - below he gives his story about signing for Lincoln City after attending our football trial events, going on trial with pro clubs and then signing for the club.
Isaac tells us about his football background - where his football started and where he has come from:
"I live in the Isle of Man, an island which currently does not have professional football setup. Therefore, my football history is grassroots local football teams from U10's to U18's and the Isle of Man Centre of Excellence team. Since the age of 10 through to 14 I had attended a Premier League club, Championship clubs and League 1 clubs on an informal basis, training with their academies during school holidays. But living on the Isle of Man made it difficult for these to be consistent / regular events."
Isaac felt he needed a chance and had a specific reason why opportunities were hard to come by.
"The Isle of Man is remote and does not have a professional football setup therefore my family and I realised we needed to do something different and chose to attend UK Football trials. I had played in matches previously against Academy opposition, but as you would expect the focus of the coaches on the opposition teams always seemed to be on their own teams. Whereas at UK Football trials the club scouts in attendance are there for one purpose and monitor and assess you as an individual."
Isaac explains the outcome from his UK Football Trials Event:
"As a result of UK Football Trials, 4 clubs showed interest in me on the day and I went on to attend trial periods at both Lincoln City FC and Sheffield United FC. Having never been full time in an academy environment I found the quantity of training, tempo of training and technical ability of the players a little daunting to start with. But I felt that I quickly got up to speed and continued to be invited back for further trial periods. Both Clubs were fantastic with me and my family and integrated me fully into their academy schedules as if I was an academy player, for example training with the players at different age groups, receiving specific goalkeeper training, gym work, nutrition work and sampled their education programmes. Basically the full academy experience."
Has there been any feedback or decisions made and if so what did the club your were trialling with say?
"Lincoln City FC confirmed that they would offer me a scholar's contract for the 22/23 season. I discussed this offer with my family and accepted the Club's offer based around the fact that I really enjoyed my trial times at the Club, the welcome the Club and coaching staff gave me, the player path ways, the fact the full-time scholars all board together at Lincoln Minster School and that Lincoln is a fantastic City to spend my 2 years as a scholar."
Finally, what advice would you give to other players who think they have the talent but need an opportunity to get scouted?
"You should definitely attend at least one UK Football trials day. You and your family maybe a little sceptical, but as soon as you get to the trial day you will realise it is genuine and I am an example of what could happen."
Congratualtions to Isaac and to his family who have been incredibly supportive. We are so pleased that he has done so well and finds himself in a great club, being well looked after and improving his game.

What Pro Clubs & Scouts Say About UK Football Trials
What Parents & Players Say About UK Football Trials
UK Football Trials is a FEEFO GOLD Rated & Trusted Merchant 2015, 2016, 2017, 2018, 2019, 2020, 2021
UK Football Trials is the largest and most successful football trials company in the world. We became the world's first football trials company confident enough to use an independent feedback review system too! It allows the players and parents who attend to tell the world what they think!

Our Rating: 4.9 / 5 * Excellent