Cyril Hoedoafia - Aged U12 - SIGNED For Aldershot Town FC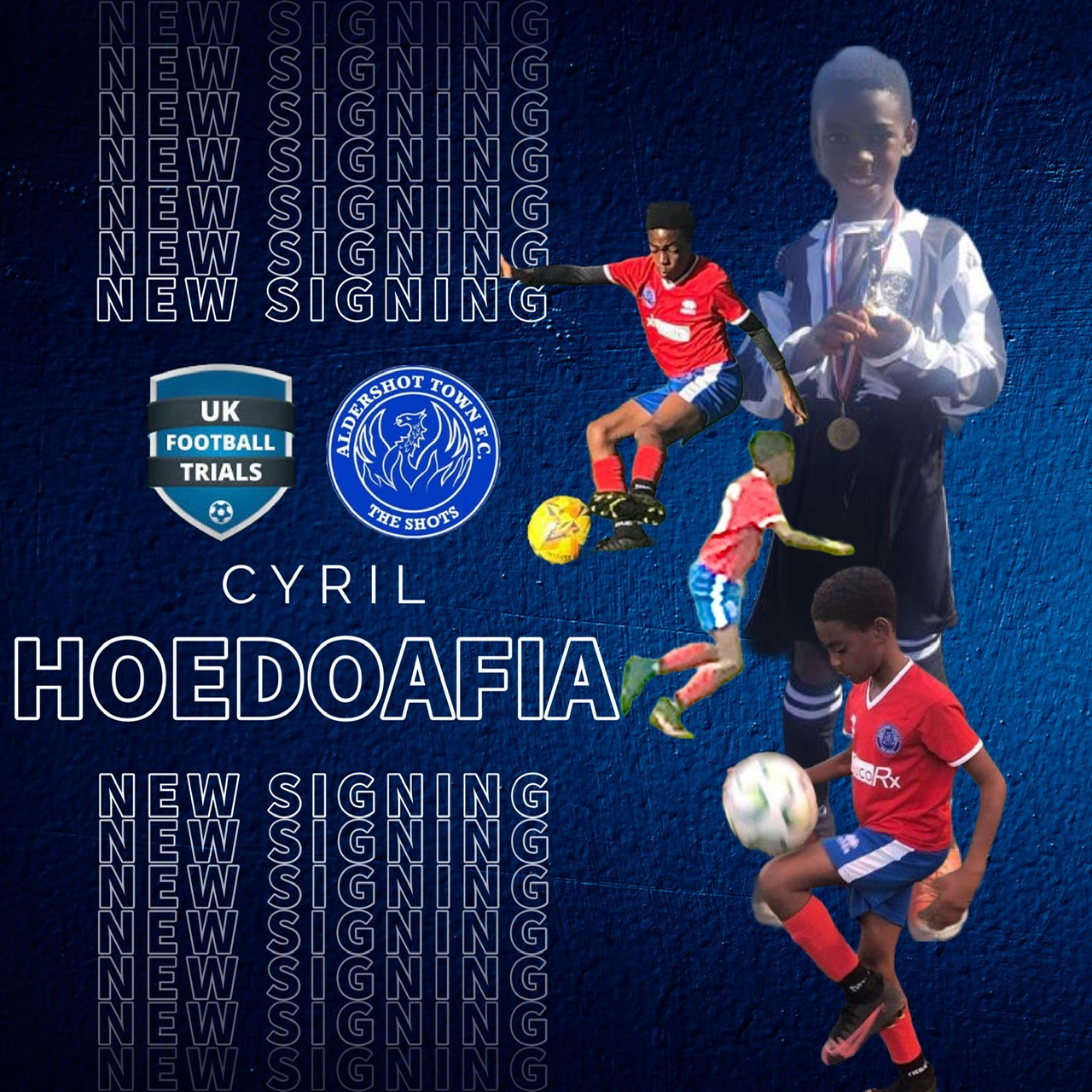 A big congratulations to Cyril Hoedoafia, an exciting young striker, who had a great performance at our West London football trial event, was scouted, had a trial period and now gone on to sign for Aldershot Town FC. Cyril has had a great start to the season in grassroots too – scoring 9 goals in 3 games in the Epsom and Ewel Youth League.
We spoke to Clement, the father of Cyril to learn more about his journey so far.
"Clement – please tell us about Cyril and his football history so far:"
Right from being a toddler he played for a league called Little kickers. In 2019 he played for a team called Beddington Albion's and getting many man of the match awards, trophies and medals and being the top goal scorer. He joined Roundshaw & Districts Colts Youth U12 in July 2022 and is the highest goal scorer in the grassroots League at the moment. He has scored 9 goals in 3 games in the Epsom & Ewell Youth Leagues U12 Group 9. After attending UK Football Trials, he was scouted by Aldershot and has now signed for Aldershot Town FC academy U12 as a striker.
"So what was the reason you needed an opportunity and attend a UK Football Trials Event?"
We decided to come to UK football trials as we were looking for an opportunity to be scouted by an academy. We have also heard positive reviews of the UK football trails so we decided to take our chance to be seen by many clubs in one place. We found it enjoyable as I met new people and played with people with different abilities. I would highly recommend UK Football Trials to others.
"How was the decision to sign for Aldershot academy given to you and how is life at the club as an Academy player?"
I was invited for 3 trials. After the first trial, Cyril was invited to play two matches with the club. After the last match the coach informed us that he was very pleased with the performances and that he would like to sign Cyril for the Aldershot U12s academy.
"What advice would you give to other players who think they have the talent but need an opportunity to get scouted and may have had setbacks?"
My advice would be to always keep trying your best and never give up your dream of being scouted.
The whole team at UK Football Trials are delighted for Cyril and the family. A very talented striker who has had a great start to his season and who seems very committed to working hard and delivering on the pitch. We wish Cyril all the very best and we will track his journey with interest!

What Pro Clubs & Scouts Say About UK Football Trials
What Parents & Players Say About UK Football Trials
UK Football Trials is a FEEFO GOLD Rated & Trusted Merchant 2015, 2016, 2017, 2018, 2019, 2020, 2021
UK Football Trials is the largest and most successful football trials company in the world. We became the world's first football trials company confident enough to use an independent feedback review system too! It allows the players and parents who attend to tell the world what they think!

Our Rating: 4.9 / 5 * Excellent