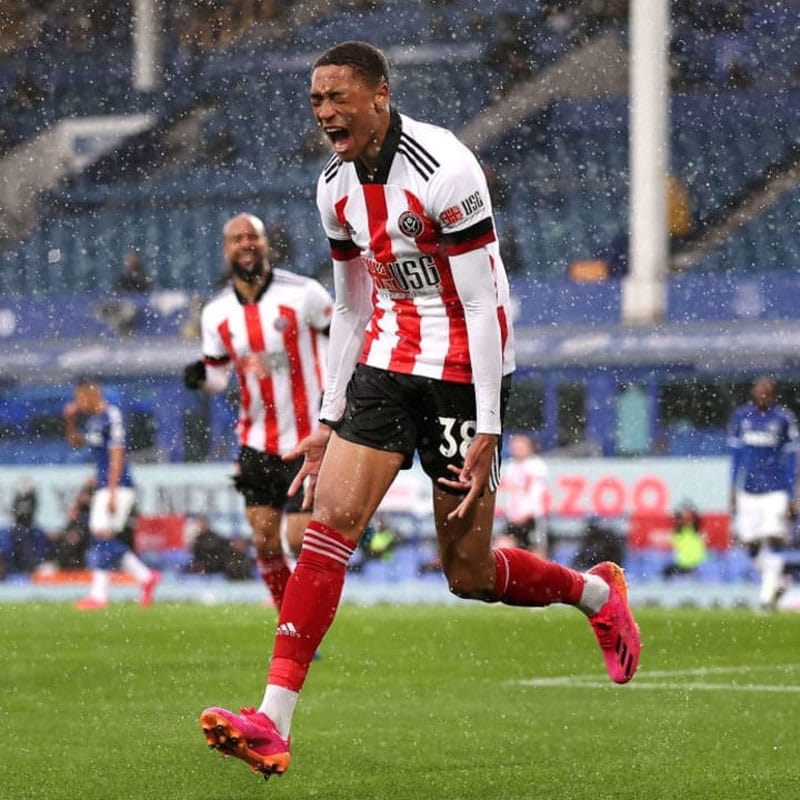 Daniel Jebbison Update - Starts A Premier League Game For The First Time And Scores The Winner Against Everton!
Published Monday 17th of May 2021 03:06 PM
After moving with his parents to England, Daniel attended our Birmingham football trial event back in April 2018, playing as a full back in the trial games. There are clips of his footage on our Youtube channel here. His athleticism, physicality and raw talent was spotted by both Sheffield United's Head Of Recruitment at the time Ashley Foyle (who was coaching on the day) and Sheffield United scout Stuart Cross who also attended the trial. The pair are also responsible for bringing in through our trials system, fellow Sheffield United starlet (and close friend of Daniel), Hassan Ayari who is the leading Academy goal scorer this season and played in the U20 African Cup of Nations for Tunisia. It's safe to say they have recruited well from our events!
From our one-day event, Daniel was invited to trial for the then Championship club's academy, where he continued to perform and impress. The club coaches recognised Daniel's attacking flair, pace and power and started playing him as a winger.
Ashley Foyle at the time told us: "He scored in his first game for us and played for the u15's on Saturday too. In training he's been looking good, physically he's there and he's good technically also."
He continued with another progress report: "Dan played in the UDAN tournament and did really well, he created a few goals and showed enough pace and athleticism, we are going to sign him."
When speaking with Daniel on this opportunity, he told us: "When I found out the club were interested I was so excited and could not wait to express my technical and tactical ability on the pitch. When I found out they wanted to sign me, it felt amazing and I just wanted to push even harder and go even further in my career." He added.
This attitude was paramount to his development as a player. He pushed himself constantly, worked hard on his finishing and movement. It was no surprise when Daniel was signed as a scholar and then given his first pro contract, playing primarily now as a striker.
However, after a brief spell playing for Chorley around Christmas 2020 things started to take off for the young, talented striker. In March 2021 Daniel was called up to represent England at U18 level against Wales. Discussing how it felt to get the call up, Daniel told us: "I felt amazing. I felt so honoured and I am so thankful. The training with England was short, sharp and they pushed us to keep fit and not fatigue. When I first stepped onto the pitch in the England kit I felt amazing. I was focused and ready to give it my all. I enjoyed every last second."
The England call up was just the beginning of what would turn out to be an unbelievable couple of months.
On Saturday 8th April 2021, Daniel was named in the squad for Sheffield United to face Crystal Palace in the Premier League.
He made an appearance as a substitute in the 65th minute, replacing Scotland International Oliver Burke. His lively display caught the eye of fans and pundits and ultimately earned him a place in the starting line up for the Blades the following weekend against a strong Everton side chasing European places.
Wearing the number 38 against the Merseyside club, Jebbison looked sharp and showing excellent awareness and movement, he ghosted into the box to finish at the far post to put his team ahead in just the 7th minute. His performance was analysed by Danny Murphy on Match of The Day 2, and his link up play was praised. He was unlucky not to add a second, showing electric pace to latch on to a poor back pass only to be denied trying to chip England goalkeeper Jordan Pickford who pulled off a smart save. His goal would ultimately secure the win and all three points for the team.
Daniel has been very kind to send us some video messages (we made a further video of his journey here) and wanted to offer players seeking to follow in his footsteps the following simple but incredibly important advice: "For all the young players who want to turn pro and play at the top level, it's simple always give 110% in both training and in matches. That hard work you put in will always benefit you when you step onto the pitch. Always enjoy the game. If you don't love the sport and also have the passion and drive, you wont reach your maximum potential."
This advice mirrors closely some of the things we talk about in our book "How To Get Scouted". All of us at UK Football Trials are delighted for Daniel and would like to congratulate him on his successes for both club and country. It is an honour to have played a role in helping him get his opportunity and we cannot wait to see what happens going forward after this incredible start to his career.